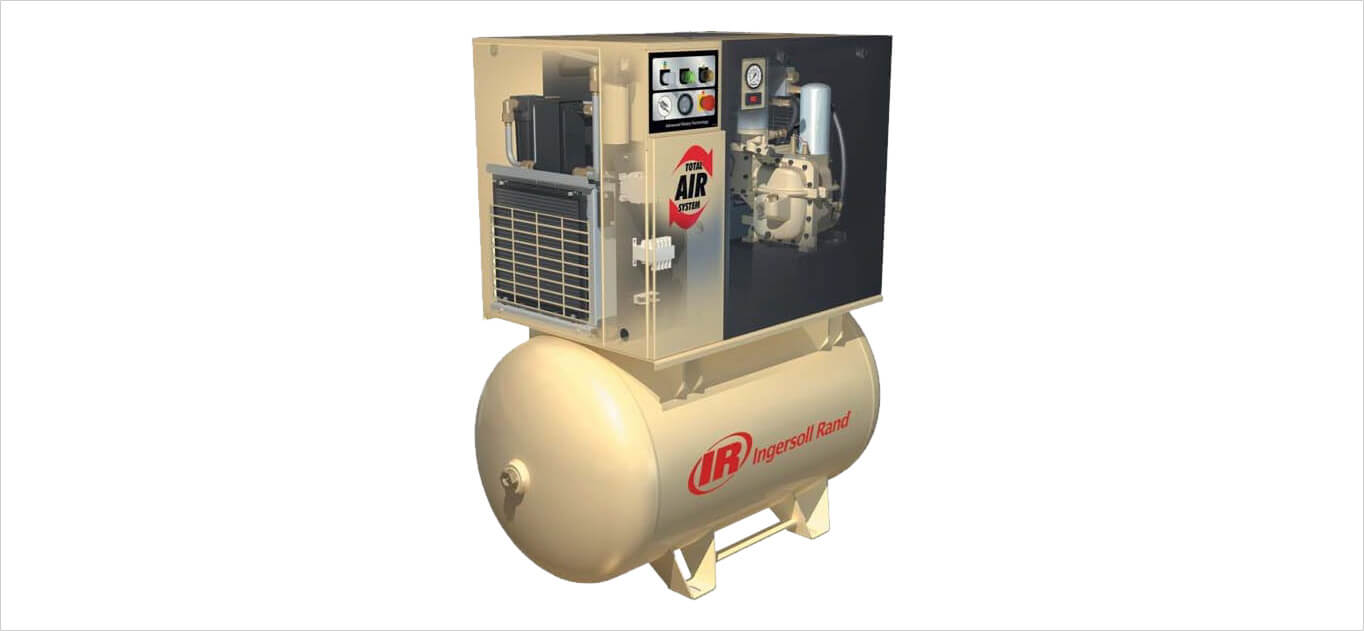 4-11kW TAS ROTARY SCREW AIR COMPRESSORS
A new standard of performance
The UP-Series is more than an integrated air system, it's a complete air solution designed to maximize the key drivers of profitability in today's business:
Uptime Reliability

Shop Productivity

Flexibility Of Operation

Energy Efficiency & Savings
Performance by Design
Integrated air compressor module combining:

High efficiency, industry-leading airend

Integral coolant sump

High efficiency separation system

Integrated air passages, in place of troublesome hoses and connections
The UP series delivers exceptional value and real World advantages like, Reliability, Efficiency, Flexibility and Productivity.
Dry & Clean Compressed Air :
The right air quality to do the job
All air packages Come fully equipped with an integral, energy saving air treatment center including high performance air dryer and filtration pack to remove water, oil and particles from the air stream.
All components are perfectly matched to deliver the right air quality to increase air powered tool and system equipment life.
15-22 kW Rotary Screw Air Compressor
Ingersoll Rand has taken the power of air to a new level with the Universal Product (UP-Series) rotary screw air compressor. The UP-Series design was inspired by workplace demands as detailed to us by many hundreds of compressor users. Ingersoll Rand engineers applied our expertise and world-class technologies to create a new standard of performance and value through design innovations.
Performance that Pays :
The UP-Series gives you advantages in both performance and value. For example, the high-efficiency, low-speed motor and airend reduce energy usage, extending the life of the unit, giving you a lower total cost of ownership.
All-Around Quiet :
Quiet operation is one of the most valued benefits resulting from the performance breakthroughs on the UPSeries. A number of factors contribute to reduced compressor noise levels, including: a high-efficiency airend and motor; a horizontal separator, specially designed to dampen noises; a centrifugal fan, and a compartmentalized enclosure system that is designed for superior acoustic (sound) containment.
Long-Term Value :
Air compressors prove their value by giving you ongoing and reliable performance. A large part of the UPSeries' value comes from its many design innovations. You benefit with longer equipment life. Additionally, the separator features a design that makes changes simple. A cooling air pre-filter, which traps airborne dirt particles, protects against Cooler blockage.
Ultra Coolant :
The factory fill of Ultra Coolant offers unmatched performance and improved compressor efficiency. This advanced synthetic lubricant reduces friction and delivers lower rates of wear than possible with conventional oils. It also saves on maintenance costs, since its superior performance allows drain intervals to be extended to 8,000 hours before a required change.
30-37 kW Rotary Screw Air Compressors
A Higher Standard of Performance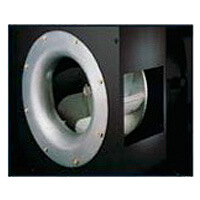 Whisper-Ouiet Operation
Oversized, high-efficiency cooling air blower provides sound levels as low as 67 dBA.
Dual-Control Operation
Reliable and effective load/ no-load control with automatic stop and restart facility for maximum flexibility.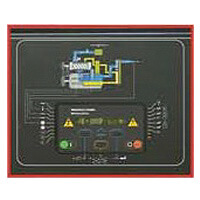 Simple Diagnostics
Visual indication of operating status and hours run for ease of operation and reduced downtime.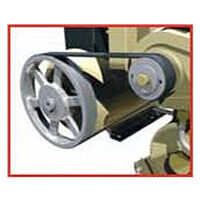 Poly-V Belt Drive
Premium drive system applies patented automatic tensioning to eliminate belt stretch and increase air output.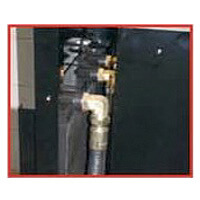 Advanced Cooling
A package pre-filter, efficient combination after cooler with access to both sides for easy cleaning and top discharge to simplify ducting.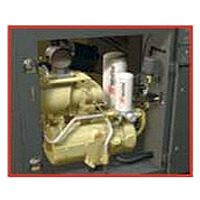 Generous Serviceability
All key maintenance components have been grouped to provide ease of serviceability.