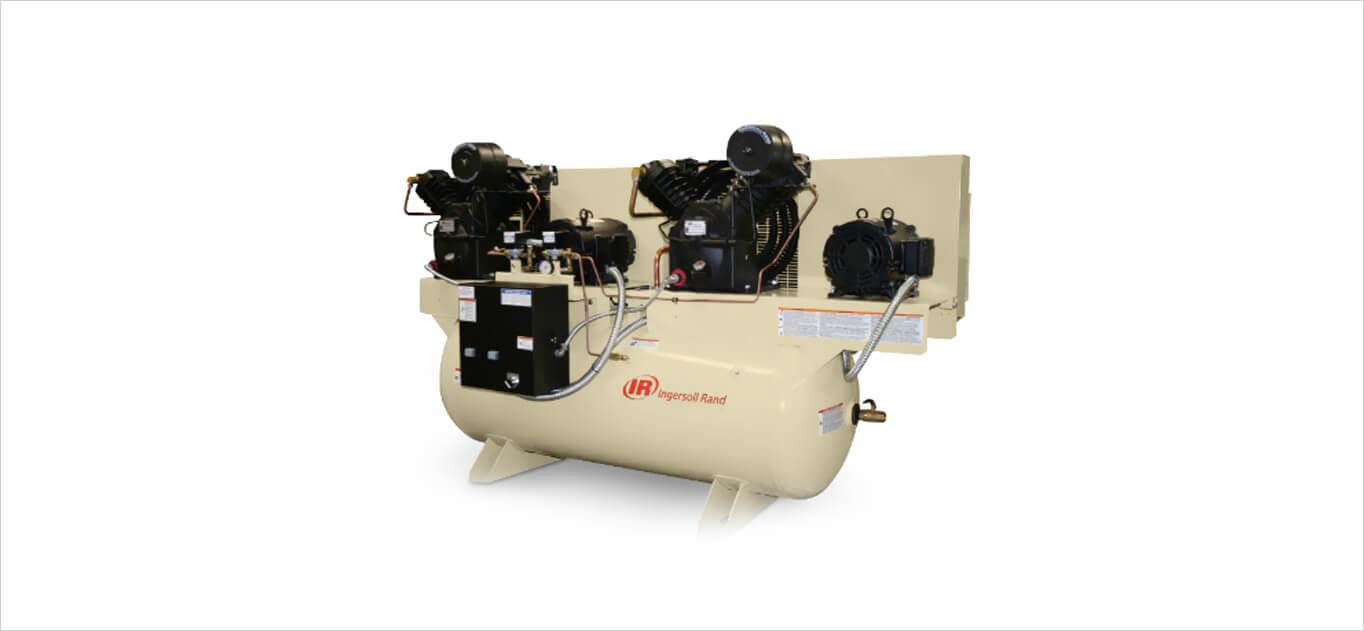 5-10hp Electric Driven Duplex Reciprocating Compressor
Ingersoll Rand duplex reciprocating air compressors offer two individual compressor pumps and two motors mounted on a single air receiver tank, providing 100% built-in backup or additional air power for those larger capacity jobs. The Duplex is ideal in applications where available power does not allow for a single larger compressor. The latest generation of Ingersoll Rand air compressors has the legendary Type 30 pump with value added features in a space saving design suitable for those tight spaces.
The duplex packages are available in Value and Premium configurations with factory fitted options ready-to-use.
FEATURES
Durable cast iron design for 100% continuous duty application

Automatic duplexing or alternating of compressors depending on compressed air requirements

Individually cast cylinders, overhung crankshaft and one piece connecting rod for ease of maintenance and service

175 psig maximum operating pressure for applications requiring high air capacity and pressure

Extended 2 year warranty when used with Ingersoll Rand All Season Select synthetic lubricant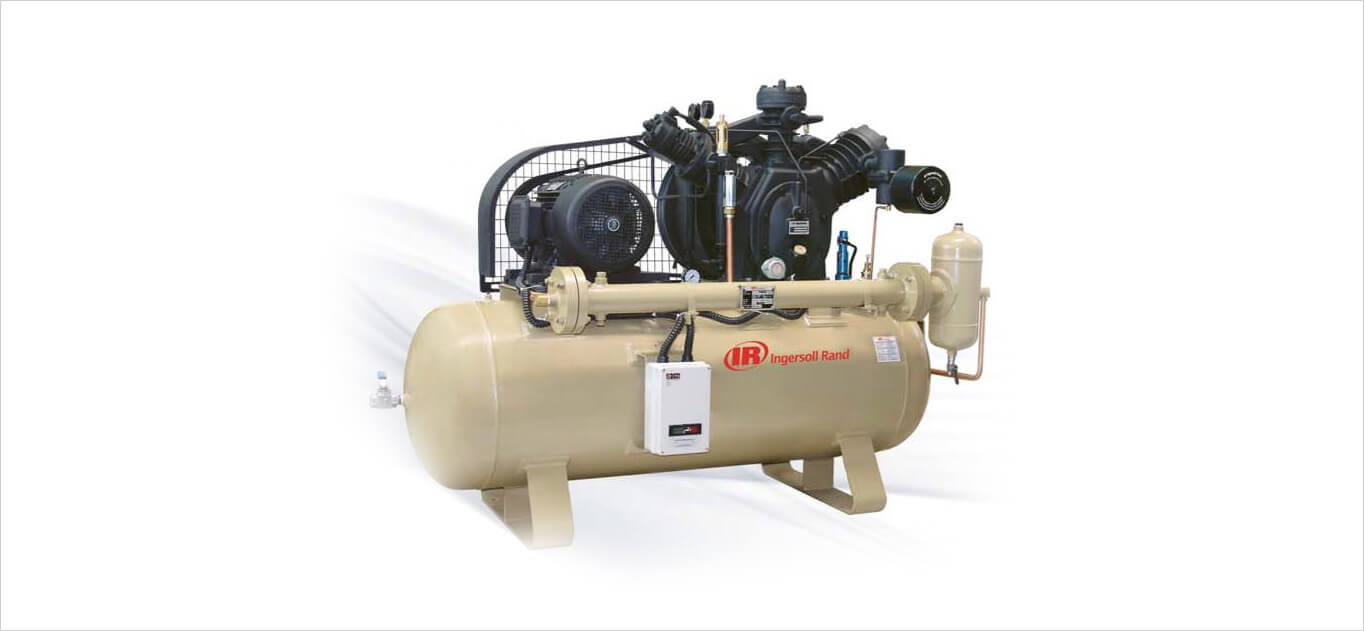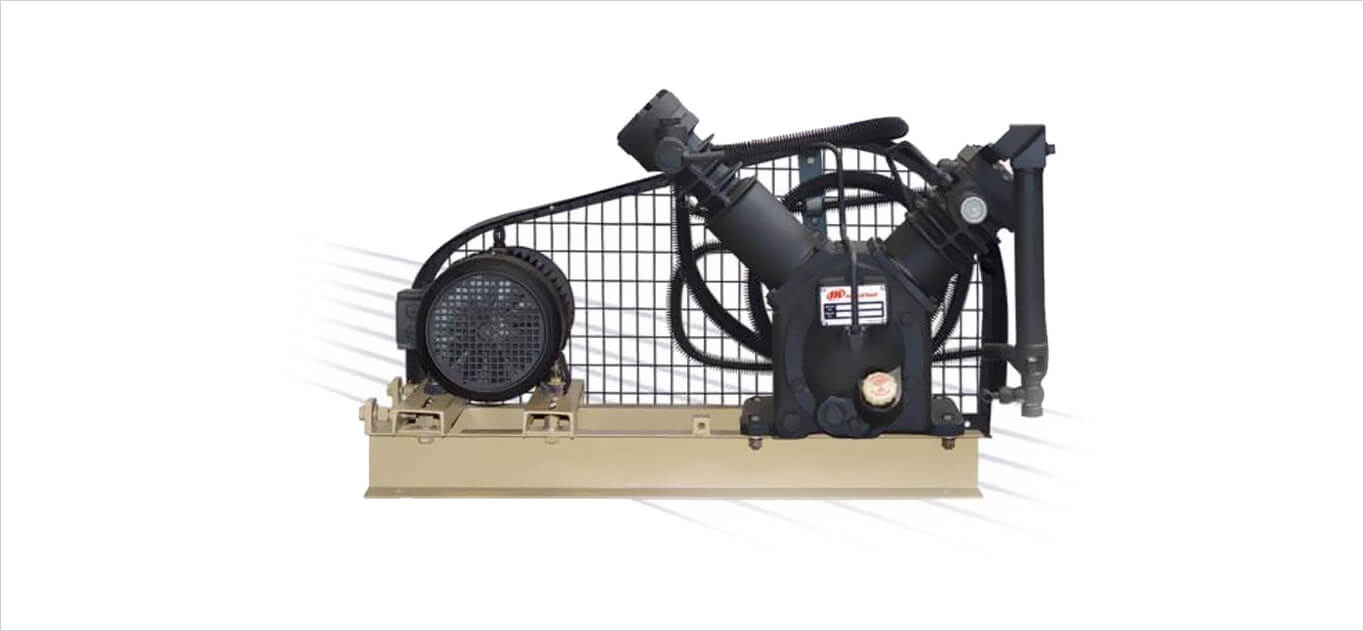 Electric-Driven Two-Stage – T30 Series High-Pressure Air Compressors
Ingersoll Rand multi-stage high-pressure air compressors are designed for high-pressure applications. These compressors have extra heavy-duty components and are designed for minimum maintenance and maximum performance. High-pressure air compressors are widely used in power generation plant, PET blow moulding industry, military, diving, and component testing.
Durable cast-iron with two, three and four-stage design air receiver tank

Intermediate duty applications

Extended pump life for years of trouble-free service
Standard Scope of Supply (for a tank of air receiver mounted air compressors)
V-sheave (compressor pulley)
Dry-type intake filter
Air-cooled inter-stage cooler with condensate drain leg
Inter-stage pressure gauge
Inter-stage safety valve
Air-cooled after-cooler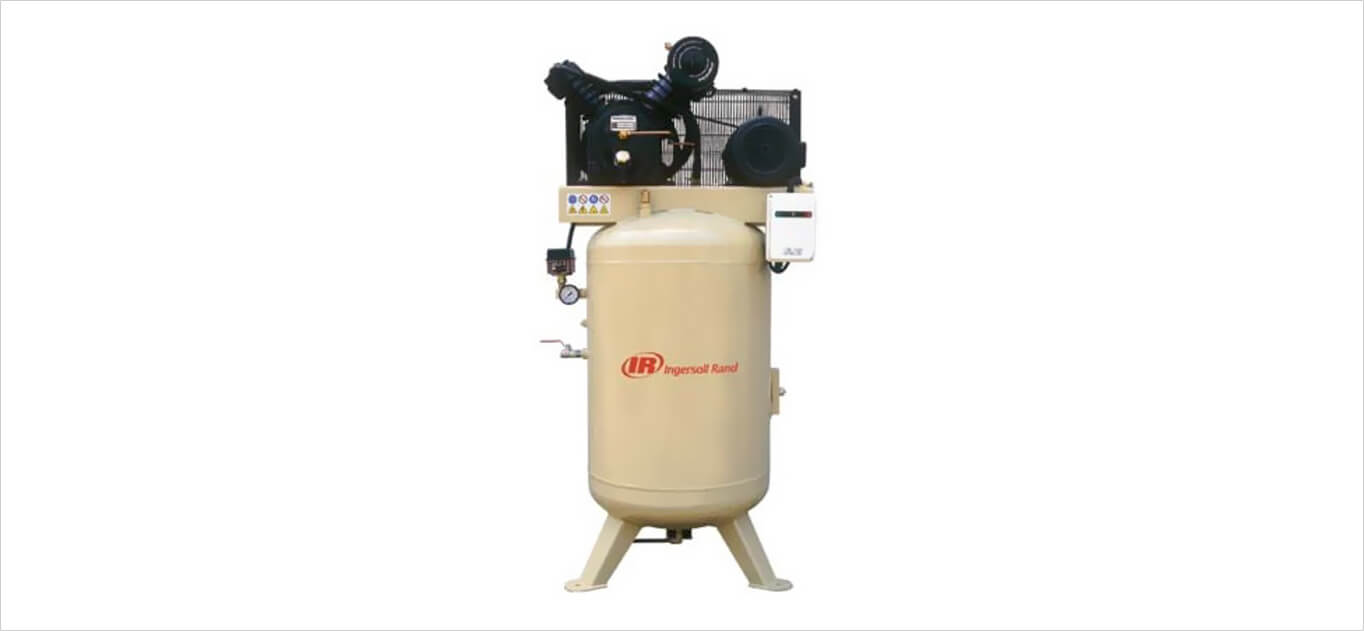 Electric Driven Two Stage – T30 Series Air Receiver tank 
Designed for heavy shop or industrial use, Ingersoll Rand Two-Stage electric air Receiver tank compressors provide the quality and performance that are ideal for most applications and users, including automotive service and body shops; fleet maintenance; machine shops; production and manufacturing lines; construction; woodworking shops; dry cleaners; car washes; maintenance/repair shops and farms.
Value Packaged
Economically priced Compressed Air Systems, Ingersoll Rand Two-Stage Value Packaged air compressors are perfect for automotive, commercial or light industrial applications where a dependable Air supply is required. The value package includes the added features of a mounted and wired starter, automatic start/stop pressure switch control with a suitable size air receiver tank.
Durable cast-iron, the two-stage design offers extended pump life for years of trouble-free service
175 PSI maximum operating pressure
 100% continuous duty for tough applications
Air receiver tank automatic start/stop control/pressure switch operation
 includes a motor starter, oil sight glass (10-15 HP only), manual drain, and BS5169 air receiver tank